Lot Lines – the Official Blog of Outdoor Design Group, Colorado Landscape Architects
Whether you're an experienced or an inexperienced gardener, you're probably aware of fall planted flowering bulbs. Tulips, daffodils, crocus, alliums, hyacinth and other "fall planted/spring blooming bulbs" have become very iconic harbingers of the advent of spring season. However, there's a large assortment of flowering bulbs that make a spring-time appearance in garden retail stores, providing their own form of welcoming the passing of winter and the arrival of a new gardening season. The so-called spring planted flower bulbs may be lesser known to the novice gardener, but can be almost as valuable as the fall planted bulbs. These summer blooming plants can be used to place spots of color in-between perennials and shrubs in your landscape. Planted in Spring, these bulbs emerge to provide beautiful flowers throughout summer and fall, with exact flowering times varying per species and cultivar.
In fact, the spring planted bulbs are not all true bulbs. Some may be corms, rhizomes or tubers, which are all different types of storage organs that plants have evolved over time. It is these clever little storage devices that have allowed people to dig them up during plant dormancy, and package them up to be shipped to garden center stores around the world. Some of the spring planted bulbs are perennials, but most are not, at least in the USDA hardiness zone that Denver finds itself in.
Out of the many types of spring planted ornamental bulbous plants available in your local garden center, I cover three common types here in this post.
Perhaps the best known spring planted bulb is the gladiolus, which hails from South Africa. Botanists consider the gladioli to actually be corms, not true bulbs. Corms are underground plant stems that function as storage organs, whereas true bulbs are underground storage organs made up of layers of fleshy modified leaves. Most gladioli are hardy only to zone 8, which makes them annuals in Colorado. But there are some gladioli that are hardy to zone 5, if well mulched in winter. Gladioli come in many colors and sport bright blooms on upright stems with strap-like leaves.
Like the "glads", dahlias are another very popular summer bloom that is not hardy in Colorado. Dahlias are placed in the spring planted bulb category because they form tuberous roots which are dried and then sold. The pre-cultivar dahlias are native to Mexico. There tubers were used as a food crop by the Aztecs. The trick to buying dahlias in dry form is that they must have a stem attached to the tubers, because only the stems produce buds, which then produce stems and flowers. There is a huge variety of dahlia cultivars to be found in garden centers. In springtime, the dahlia tubers are sold in bags along with the other spring planted bulbs. But in summer it is common to see the dahlias sold as potted plants. Buying them as tubers is cheaper than as potted plants. Because the dahlias are hardy only to zone 8, if you want them to return to your yard next summer you must save the tubers (with a bit of the stems attached)  in a cool but not freezing space, to be replanted in a successive season. Or simply just buy new ones each spring. Dahlias are popular because the blooms come in a multitude of shapes, colors and sizes. If you've never seen a 12 inch wide "dinner plate" dahlia flower in bloom, you are missing out on a fascinating sight.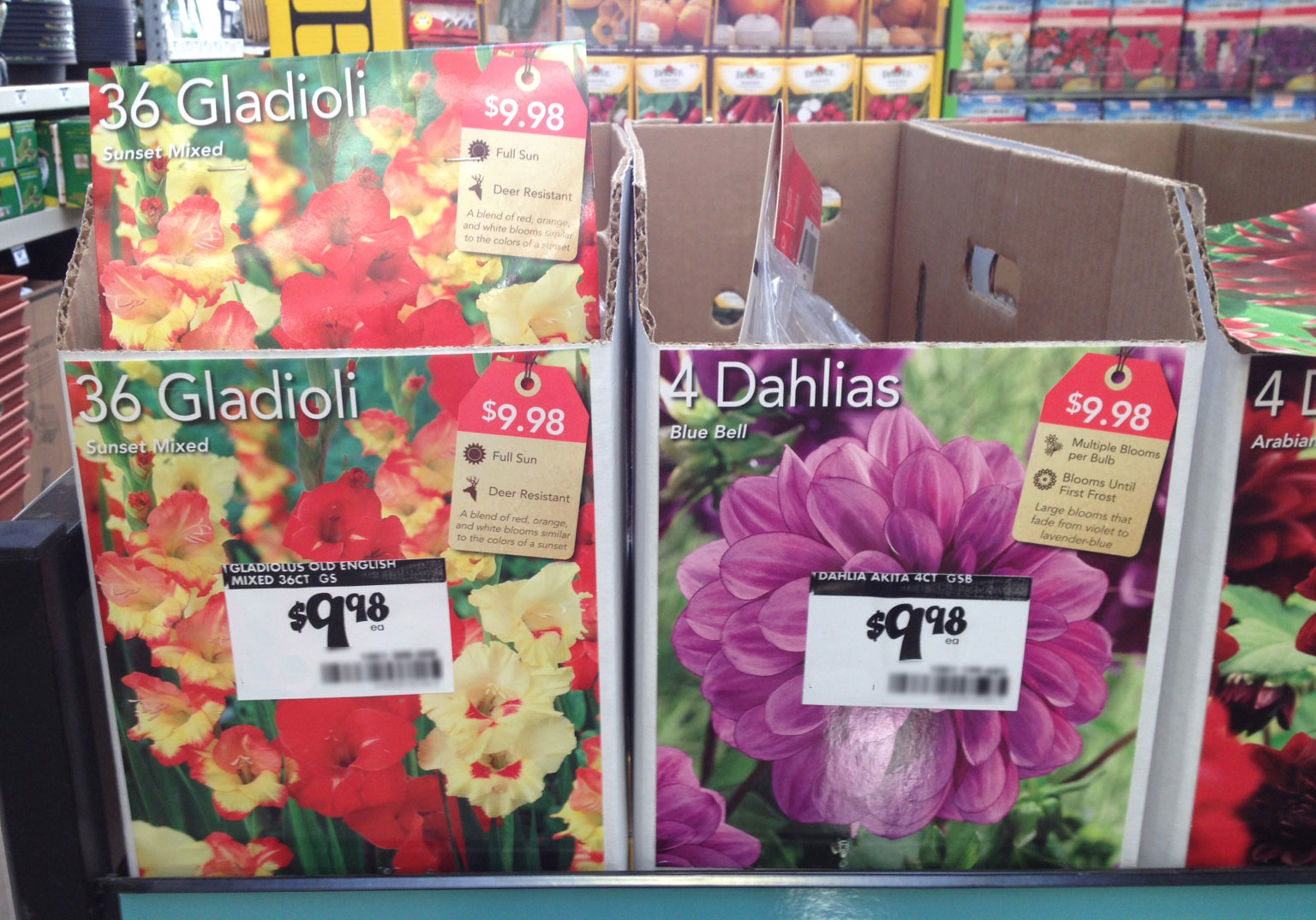 Canna Lilies are another spring planted "bulb" that bring an air of the tropics to your landscape.  These flowering plants are often used in annual pots, providing tall, colorful focal points in the center surrounded by lower annuals. Cannas are native to Latin America and are grown as annuals in Denver's hardiness zone of 5. But if you find the right micro-climate, they may over-winter just fine. I know of one house in Denver, where cannas are planted at the base of a south facing wall on a house, and have become perennial in this residential landscape due to this warm micro-climate spot. Cannas are not true bulbs, but are "rhizomatous." A rhizome is an underground horizontal stem that can send out shoots and roots from nodes. A ginger "root" is an example of a rhizome that you'll find in a produce section. Cannas are closely related to ginger and also bananas! Another familiar rhizomatous plant are irises, which have above ground rhizomes. Although canna lilies are often available as potted plants throughout summer, if you purchase them as rhizomes in spring, you get the plants for a fraction of the cost of potted ones. As mentioned previously, cannas develop tropical-like flowers and leaves, giving your patio an island vibe.
Head on down to your local garden center this spring gardening season and pick up some spring planted bulbs to brighten your landscape this summer!
This is the official blog of Outdoor Design Group, Colorado Landscape Architects.  For more information about our business and our services, click here.
Related Posts:
Located in Littleton, Colorado, The Gardens at Columbine is a memory care/assisted living facility on which Outdoor Design Group provided landscape design services. This site was an expansion of an existing assisted living facility onto adjacent property. This new building provides a space for adding memory care services to the facility's roster of other existing services for senior citizens.
As the new building was being planned for this recently acquired property, we designed the outdoor spaces, walkways and landscaped gardens to surround this new structure. Because the site was not terribly large, and the proposed building sizable in scope, this provided several challenges. From how to fit parking spaces into a small space to designing safe and sound emergency exit pathways, this project was a challenging but satisfying endeavor.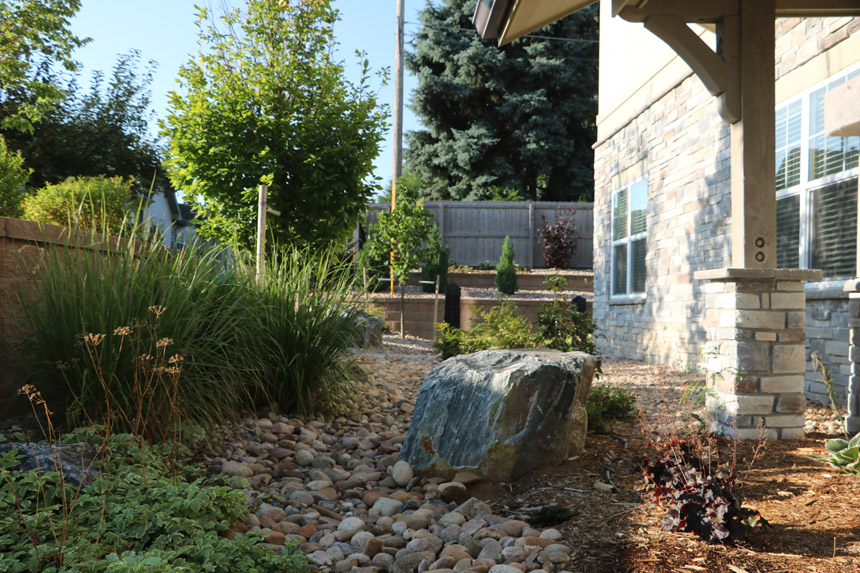 One of the first challenges we had to face was how to provide a working landscape at the east entrance to the building. This entrance is near the other existing building, and is the preferred access point for employees traveling between buildings. The difficulty here was adding an entrance walkway that would transition from a higher elevation parking lot then drop down to a doorway that sits slightly below grade relative to the parking lot. Retaining walls were necessary in this area so we added built in benches at the walls to provide useful amenities along this path. Step lights in the walls provide a soft illumination for this well used pathway.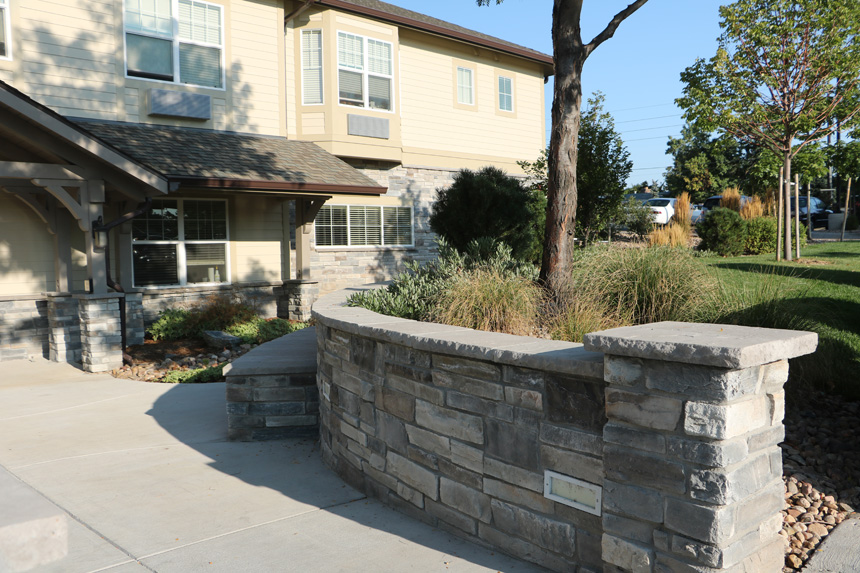 Prior to construction, the original site was filled with trees, as it had been a large lot with one single family home on it. While some of the existing trees could not be saved due to the scope of the proposed building, we worked with the city and the owner to save as many trees as we could. For example we spent a significant time working and re-working the landscape plan with the civil engineer on the project to reconfigure the entrance drive and parking areas to save several existing trees on the north and east sides of the property.
The namesake gardens are located in the internal courtyard of the project. These outdoor spaces give residents of the facility a charming scene that invites them to go outside and get some fresh air amid the trees, shrubs and raised bed gardens.
Stepping out of the building and into the courtyard, the first of the raised planting beds one encounters is a large circle comprised of  a poured-in-place concrete seat wall that is chock full of colorful perennials, wispy ornamental grasses, low growing shrubs and scraggy boulders.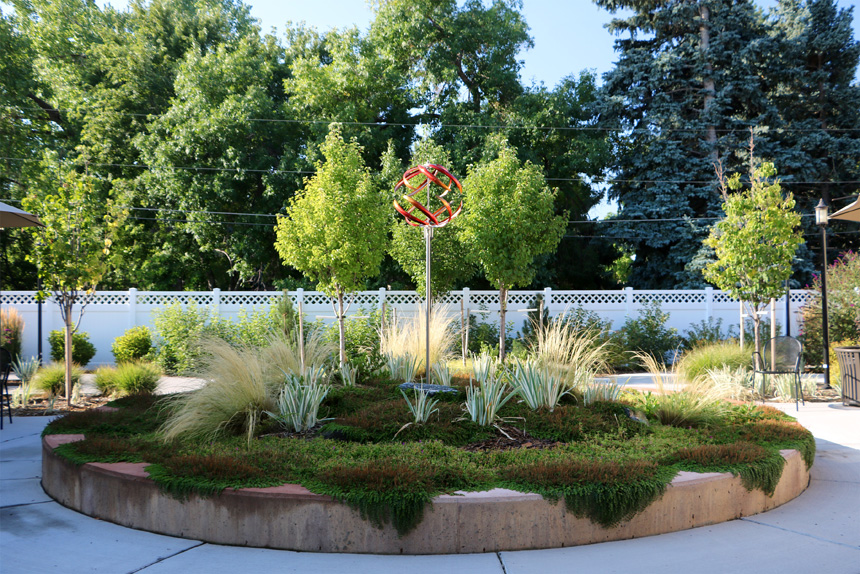 As you step further into the courtyard, you encounter wooden raised bed gardens where residents of the facility can indulge their gardening bug and get their hands dirty in the soil. These two beds are situated on opposite sides of the courtyard, connected by a concrete walk where the residents can circumnavigate to achieve fresh air and exercise, ensconced in the protective calm of these hidden gardens.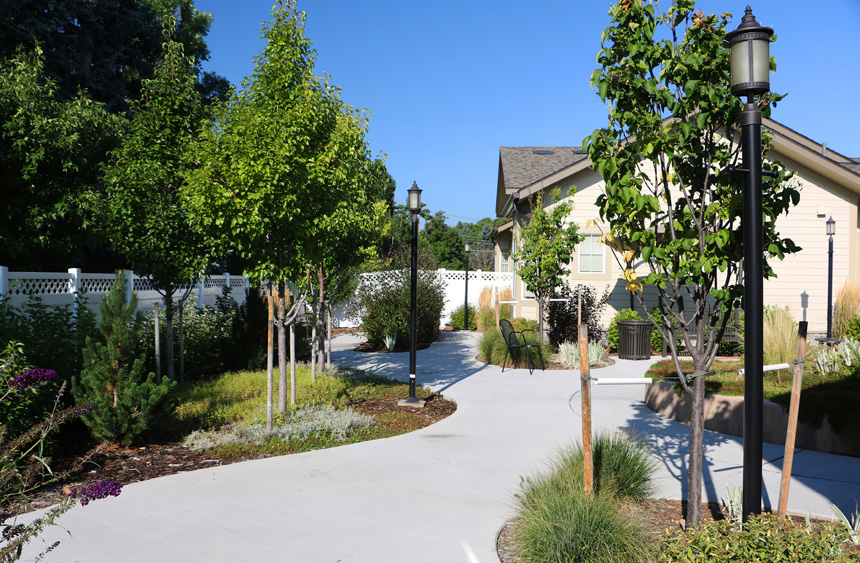 This is the official blog of Outdoor Design Group, Colorado Landscape Architects.  For more information about our business and our services, click here.
Related Posts:
A visit to the Denver Botanic Gardens has revealed that the first signs of spring are making their presence known. As we have been experiencing a recent warm spell here in the Denver area, I decided to check out the Gardens to see what might be blooming. Sure enough, there were many bulbs and some shrubs that were taking advantage of the balmy weather to burst forth in bloom.
Below are just a small sampling of what's flowering now at the Gardens:
This is the official blog of Outdoor Design Group, Colorado Landscape Architects.  For more information about our business and our services, click here.
Related Posts: