Lot Lines – the Official Blog of Outdoor Design Group, Colorado Landscape Architects
Starting on August 10, 2016, it is no longer illegal for homeowners to collect the rain (or other precipitation) that has fallen on their roofs. In May 2016 Governor John Hickenlooper signed a law (House Bill 16-1005) that allows residential properties and multifamily residences with four or fewer units to use up to two rain barrels, located above ground, with a combined storage capacity of 110 gallons.
Rain barrels can only collect precipitation from rooftop downspouts, and the collected water can only be used on the same property from where it was gathered. The collected water can only be used for outdoor purposes, such as watering outdoor plants. Collected water in rain barrels can not legally be used for drinking or indoor uses.  Additionally, it should be known by rain barrel owners that operating a rain barrel does not constitute a water right. There is language in the bill that the State Engineer "may curtail rain barrel usage" if a water right holder can prove that the use of rain barrels has impacted their ability to receive their entitled water. In fact, in the bill it says the State Engineer must report to agricultural committees in the legislature in the year 2019 and 2022, on "whether the allowance of small-scale residential precipitation collection pursuant to this article has caused any discernible injury to downstream water rights."
If you would like to learn more about rain barrels. check out Colorado State University Extension for more information.
This is the official blog of Outdoor Design Group, Colorado Landscape Architects.  For more information about our business and our services, click here.
Related Posts: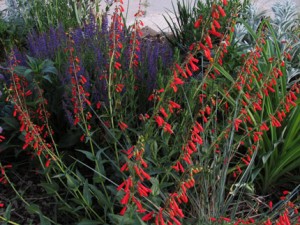 I took this photo of a Firecracker Penstemon (Penstemon eatonii) in my garden back in early June. We here in the Denver area were enjoying spring like weather at the time, and so the vivid red blooms of this beauty were still captivating the pedestrians in my neighborhood who passed it by. Despite its namesake, these blooms do not make it to July 4th, as this plant usually begins flowering in early to mid Spring. Behind the penstemon, you can see a blue salvia providing a lovely blue-purple counter note to the penstemon's brilliant warm red. This particular plant is looking a little leggy. The bed where it resides gets a bit more moisture than the plant should be receiving. It is my understanding that many (if not most) of the penstemons do better on the drier side. For useful information on how best to care for penstemons, please see the list of penstemon growing tips on the High Country Gardens website. One characteristic I appreciate about Firecracker Penstemon is the foliage can be evergreen throughout our Denver winters. And, if you have hummingbirds visiting your yard, they might be happily feeding on the tubular flowers this gorgeous plant produces.
I started this plant indoors, from seed. Many of the penstemons are very easy to acquire this way. This ease of starting from seed obviously translates to the the plants reseeding themselves in the garden. However, I find they are only mild re-seeders, and not nuisance re-seeders like lamb's ear or blanket flower.
I highly recommend you add a splash of red to your landscape with Firecracker Penstemon. If red is not the color you are after, there are several other penstemon species and hybrids to choose from that offer diverse flower colors on plants that are perfect for low-water landscapes.
This is the official blog of Outdoor Design Group, Colorado Landscape Architects.  For more information about our business and our services, click here.
Related Posts:
Do you love having a lush lawn, but hate the idea of wasting water? Do you have dogs who leave unsightly dead spots in your lawn where they've urinated? If you answered yes to either of these questions, then Dog Tuff African Dogtooth Grass (Cynodon 'PWIN04S') may be the best choice of turf grass for you. Dog Tuff is drought tolerant, resistant to dog urine, thrives is full hot sun, and is soft underfoot. Dog Tuff is a sterile variety of Bermuda grass, so it won't spread via seeds. Dog Tuff grass was developed by respected Colorado horticulturalist Kelly Grummons. Kelly is working with High Country Gardens, and Plant Select to market this product. Watch this Plant Select video to see Kelly discussing this wonderful product:
Kelly has been working on bringing Dog Tuff to market for over ten years. The original parentage for this grass is native to South Africa, where a lush patch of it was found on a ranch. Dog Tuff is a "warm-season" grass, so it does not green up as early as blue grass. However, as Kelly mentions in the video, Dog Tuff needs only a fraction of the water to survive as compared to bluegrass. Dog Tuff grass will grow in many soil types, but it does need full sun (6 or more hours of direct sun). Dog Tuff is rated hardy to USDA zone 5.
We recently provided design services for a public park in Arvada, Colorado, where we incorporated Dog Tuff grass into an area the park. It was planted last year and is doing well. We are excited to have this as part of a park where people can visit and see the grass in person.
If you are planning a new lawn, or if you are thinking about replacing your current lawn with a more drought tolerant type of grass, you should consider incorporating Dog Tuff African Dogtooth grass in your home landscape.
This is the official blog of Outdoor Design Group, Colorado Landscape Architects.  For more information about our business and our services, please visit our website at odgdesign.com.
Related Posts: